<!PATH> <!HEADER START>
<!HEADER END> <!POWER END> <!TITLE START>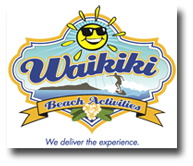 <!#43START>
Waikiki Beach Activities (WBA) Our name says it all.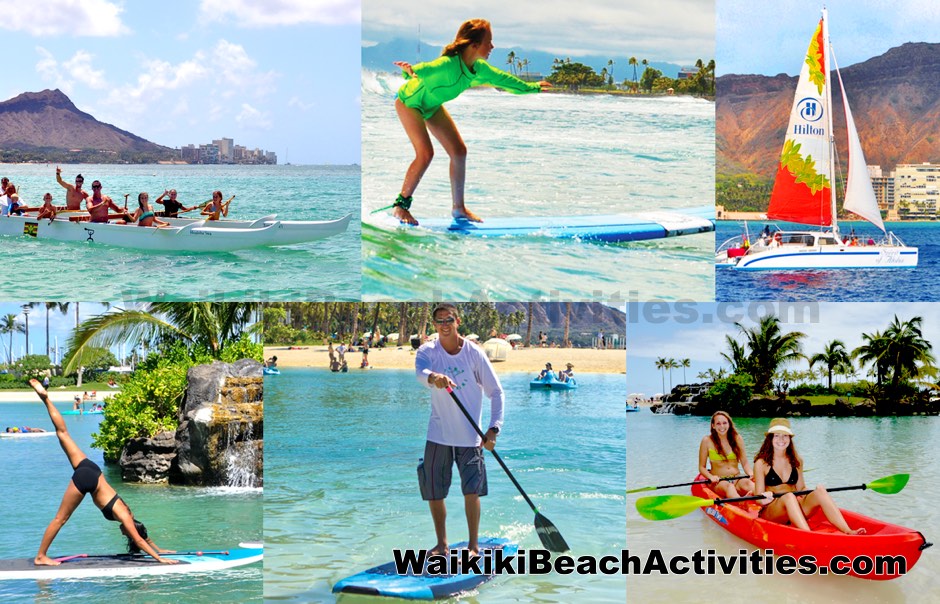 Since the late 80 s WBA has grown to be one of the largest beach services in Waikiki.
Our home is in the Hilton Hawaiian Village Beach Resort & Spa, the largest beach resort in the Pacific and it is truly a village on the beach that is the home of Duke Paoa Kahanamoku, the father of International Surfing and the Official Ambassador of Aloha.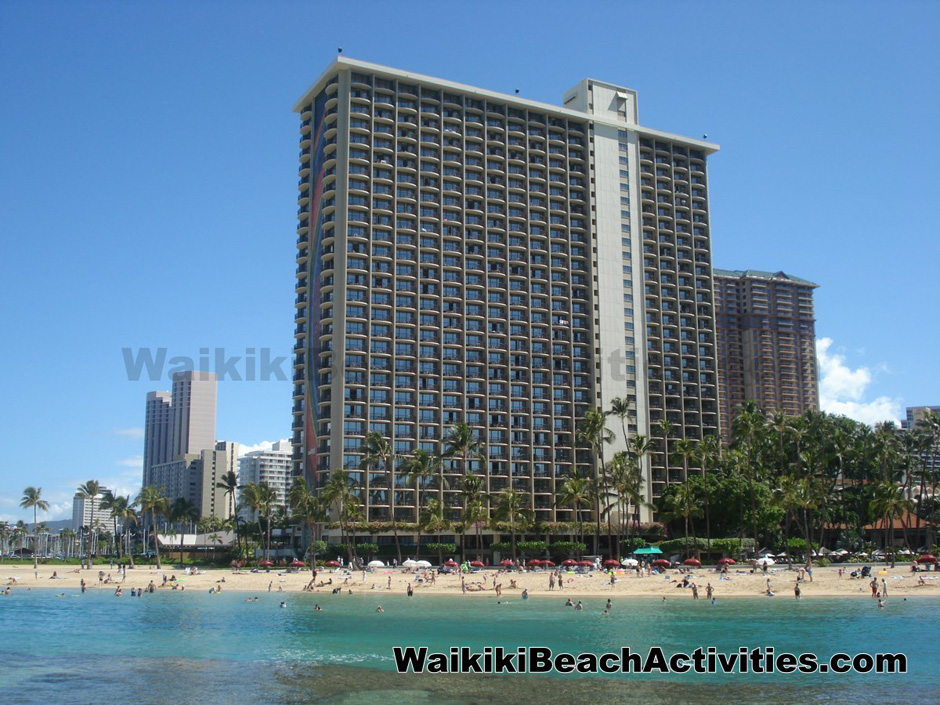 Our motto is Safety, Service and Sales.
Waikiki beach Activities Mission Statement
Safety always, Service according to the Duke Kahanamoku Creed of Aloha and Sales assistance to all of our visitors to Duke Kahanamoku Beach and the Super Pool at the Hilton Hawaiian Village Spa & Beach Resort.

Company Info
Waikiki Beach Activities, Ltd. has served as the beach and pool concessionaire for the Hilton Hawaiian Village Spa and Beach Resort since 1989. Bob Hampton, President is from Hawaii and Rob Martin, Senior vice President and C.E.O. has been in Hawaii for more than twenty years. Bob and Rob have been partners in the tour boat business in Lahaina, Maui and the SCUBA and tour submarine business on Oahu for two decades.
Our motto is Safety, Service and Sales.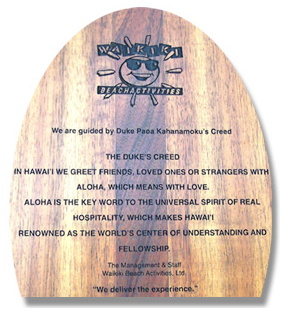 Waikiki Beach Activities is Hilton Hawaii Village Hotel's beach service, providing beach boys and a complete range of beach rental equipment including large beach umbrellas, chairs, air mats and snorkel sets. WBA can also arrange surfboard rentals, kayak rentals and canoe rides. WBA is equipped to handle large parties with up to 500+ participants. Surf lessons are provided by Pure Hawaiian Aikua Surf Academy and Hawaii Hot Spots.
Safety because the Hilton Hawaiian Village Spa & Beach Resort relies on our staff of lifeguards and waterman to serve as the villages' lifeguards, beach boys, pool attendants, snorkel instructors and fun in the sun concierges. WBA places Safety First as its highest priority. WBA has provided Hilton with Lifeguard services for the last ten years and we have never had a serious injury. We are very proud to say that WBA has a perfect Safety record.
Service because WBA is committed to Duke Kahanamoku's Creed of Aloha in our service to customers. WBA's staff is trained in customer Service. In fact, WBA has earned many service awards including the Hilton's "Ke Kula O Ka Lokahi" Service award.
Sales because WBA offers high quality retail products, rental equipment and beach activities. Some folks have referred to WBA as the Bay Watch of Waikiki.
You may have seen our beach stand in one of the many TV series that have been filmed in Hawaii. "Baywatch Hawaii," "Magnum," "Pacific Blue' and "Jake and the Fatman."
Located on the beach side of the Hilton Hawaiian Village's Hau Tree Bar the beach stand is equipped to provide a range of guest services including free guest beach towels.
Located at the entrance to the Super Pool Stand. At this stand guests will secure their wristbands which provides access to exclusive guest amenities.
History of Waikiki Beach

In ancient times, Waikiki was a wetlands area of marshes. The ancient Hawaiians excavated fish and duck ponds and bordered them with groves of coconut trees. The fertile reefs off Waikiki Beach provided an endless supply of fish and even lobster but the waves of Waikiki were reserved for the nobility, the Ali'i.
Standing on shaped planks of native wood, the Ali'i would ride the waves of Waikiki Beach, the first surfers on Earth. Challenge matches would arise as young Ali'i struggled to ride the largest waves, demonstrating their bravery and prowess while the common people watched in awe, for to even attempt to stand and surf as the Ali'i on their sacred waves was an offense punishable by death.
The growth of Waikiki as a tourist destination came about in the early 1920's. Duke Kahanamoku became famous worldwide as the young handsome Hawaiian who swam like a fish while capturing gold medals in swimming at the Olympics and capturing young ladies hearts when they saw him in newsreels standing on a wooden board on a large wave off Waikiki Beach. The Duke was unlike anyone that they had ever seen before. Because the Duke's home and surfing grounds were in Kalia in Waikiki, Waikiki was put on the map.
The waves still roll gently over the ancient reef at Waikiki Beach, but today, they are available for the enjoyment of all.
History of Kalia
This part of Waikiki is called "Kalia" and it is approximately 23 acres in size. All of Kalia is occupied by the Hilton Hawaiian Village Beach Resort and Spa. Legend tells of a Hawaiian Chief who lived in Kalia that waited patiently for the return if his wife who had been wooed away by a rival chief on Maui. Kalia means "waited for."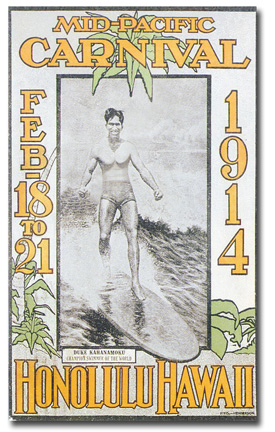 Waikiki and Kalia were also playgrounds for Hawaiians and many new residents who moved to Hawaii from Japan, China, Russia, Portugal and America.
In 1848 King Kamehameha III began a process called the Great Mahele which saw the King deed some of his lands to his family and other chiefs and to some commoners. The King's Great Mahele also allowed foreigners to own land in the Kingdom. Kalia was deeded to Henry Paoa. The Paoa family included Duke Kahanamoku who was raised in Kalia from a small child to a man. The lessons Duke learned while living in Kalia led him to become the most famous waterman in history. Kalia is where the Duke learned to swim, surf, fish and paddle canoes.
The Art of Surfing began in the waters of Waikiki.
Hawaii Hot Spots Surf Academy
Life-long Hawaiian waterman, Errol Kane, and his select team of surf instructors are ready and willing to take you surfing, whether beginner, intermediate or advanced. Backed by the Office of Hawaiian Affairs, Errol takes pride in getting 100/0 of his students to ride a wave. "Our mission is to offer surfing lessons so unique and special that our clients return home with a great lifetime memory of Hawai'i and the true meaning of aloha. I am proud to be perpetuating my culture." Hot Spots is known for its patience with beginner surfers and the ability to communicate with visitors of all nationalities..
Hilton Hawaiian Village® Waikiki Beach Resort
The village offers many of these wonderful places, I like to sit under this coconut tree when I need a moment to think.
The Hilton Hawaiian Village Spa and Beach Resort has five first class hotel buildings with a total of 2,800+ rooms. Each building has beautiful Hawaiian style gardens and large grounds with all of the expected amenities. The village also has a shopping Bazaar with 99 shops, stores, galleries and restaurants. There is also a Spa, a Medical Clinic, Church, US Post Office and Business Center with web access for guests.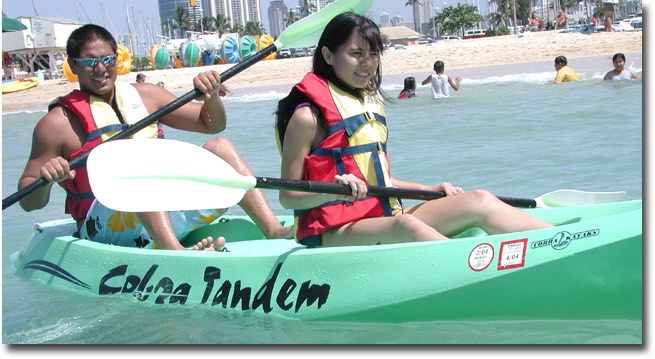 Average Weather by months in Waikiki

Month

High Avg.

Low Avg.

Rain Avg

January

80.1° F

65.7° F

3.60 in

February

80.4° F

65.5° F

2.20 in

March

81.7° F

67.3° F

2.20 in

April

82.8° F

68.7° F

1.50 in

May

84.7° F

70.3° F

1.10 in

June

86.5° F

72.1° F

0.50 in

July

87.4° F

73.6° F

0.60 in

August

88.7° F

74.1° F

0.40 in

September

88.5° F

73.6° F

0.80 in

October

86.9° F

72.3° F

2.30 in

November

84.0° F

70.3° F

3.00 in

December

81.1° F

66.9° F

3.80 in
<!#43END>
ref no:31736
<!PATH>
<!#999SPACERStart>
<!#999SPACEREnd>
<!#999SPACERStart>
<!#999SPACEREnd>
Please send questions about this website to
webmaster