Featuring Beaches of Hawaii and Around the World
Beach Stand - Beaches of Hawaii and the World
News Item

Mayor joins fellow Bloomberg American Cities Climate Challenge winners to release new Climate Action Playbook
<!#43START>
Mayor joins fellow Bloomberg American Cities Climate Challenge winners to release new Climate Action Playbook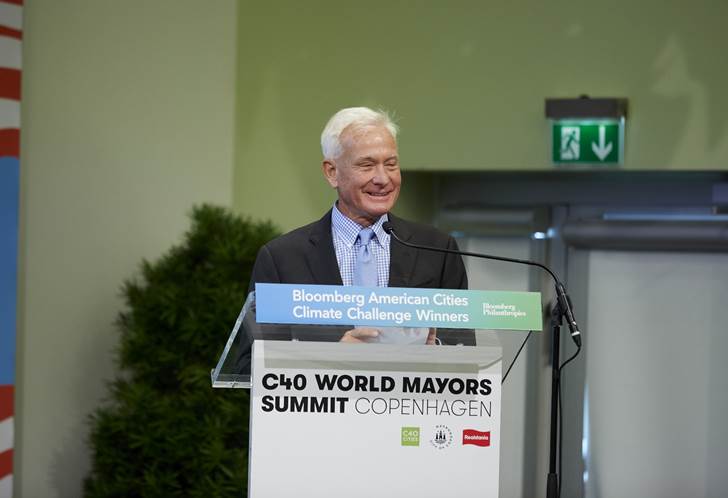 If adopted by the 100 largest U.S. cities, the winning strategies could collectively reduce city emissions by 28.5%, meeting their share of the U.S. national Paris Target by 2025.
COPENHAGEN, DK
— Today at the
2019 C40 World Mayors Summit
, Mayor Caldwell joined Mike Bloomberg to release the
American Cities Climate Challenge Climate Action Playbook
– a strategic brief to accelerate and deepen climate action among cities. The Playbook, informed by actions that Honolulu is already implementing through the
American Cities Climate Challenge
, provides a roadmap for cities to reduce city-wide emissions and create healthier, more resilient communities.
A link to today's press conference available here (starts at 13:12):
https://youtu.be/nmHFpqV3nSs?t=792
If the 100 largest U.S. cities took on the strategies outlined in the Playbook, their total combined emissions would drop by 28.5%, meeting their share of the U.S. national target of reducing emissions by 26% to 28% by 2025 – the goal set under the Paris Agreement. This work would result in carbon reductions of 224 million metric tons, the equivalent of taking 47.5 million cars off the road for a year, or shutting down 57 coal-fired power plants for one year.
"Oʻahu took a big step forward combating the climate crisis when we released our Resilience Strategy and began implementing the 44 actions that tackle climate resilience and cost of living on our island," said Mayor Caldwell. "The American Cities Climate Challenge Playbook takes our work and combines it with the work of others to amplify these initiatives across the country. It's encouraging to see so many city leaders working hard to fight for our future on a global scale."
"Through the Bloomberg American Cities Climate Challenge, 25 major U.S. cities have taken ambitious action to fight climate change, and they're already seeing strong results," said Michael R. Bloomberg, C40 Board President, UN Secretary-General's Special Envoy for Climate Action, Founder of Bloomberg Philanthropies and Mayor of New York City 2002-2013. "Now, our Climate Action Playbook will help spread their successes to other cities across the U.S. and the world, drawing on the proven policies and programs that are reducing emissions, strengthening infrastructure, and improving public health. Cities are vital leaders in the global climate fight – and we're giving them the tools to make a difference."
As a part of the American Cities Climate Challenge, Honolulu is working with world-class experts from leading organizations, including the Natural Resources Defense Council and C40, to meet their ambitious climate goals, ramping up action specifically in the two highest-emitting sectors in cities: transportation and buildings. The nine cities that presented the playbook – Austin, TX; Boston, MA; Honolulu, HI; Los Angeles, CA; Philadelphia, PA; Portland, OR; San Antonio, TX; Seattle, WA; and Washington, DC – are all among the 25 winners in the Climate Challenge.
Since the launch of the Climate Challenge in 2018, Honolulu has successfully implemented bold policies that are already rapidly reducing emissions, such as promoting new technology that utilizes captured carbon in concrete construction. Honolulu is being recognized at the summit for helping to create one of the top "100 Climate Action Projects" from around the world in the
2019 Cities100 report
.
"Mayors aren't waiting to address climate change. We're working together now – across traditional divides and across national borders – to foster innovative solutions that reduce emissions and improve the lives of our residents," said Karla Rubilar, Intendenta, Santiago de Chile. "Today's new Climate Action Playbook from my American peers is a welcome addition to our toolbox of climate solutions. I look forward to exploring how we can bring these strategies back to Santiago – and I encourage mayors from all parts of the world to do the same."
Some of the most effective strategies outlined in the Playbook include the following:
•
Initiatives to set benchmarking and performance policies for building energy use
•
Decarbonize buildings
•
Improve public transit speed, reliability and user experience
•
Expand urban pedestrian and micro mobility access
•
Procure renewable energy for municipal demand
•
Promote EV adoption through infrastructure and education
—PAU—
About the Bloomberg American Cities Climate Challenge
Recognizing that cities account for more than 70% of global carbon emissions, the Bloomberg American Cities Climate Challenge was formed with an investment of $70 million to enhance the work already being done by mayors across the U.S. and to support cities in the fight against climate change. The Bloomberg American Cities Climate Challenge aims to go beyond the theoretical and scale-up high-impact urban climate solutions that are already proven to succeed – specifically, from the buildings and transportation sectors. World-class partners for the Bloomberg American Cities Climate Challenge will be led by the Natural Resources Defense Council and Delivery Associates. The Bloomberg American Cities Climate Challenge is part of Mike Bloomberg's American Cities Initiative, a suite of more than $200 million in investments to strengthen city halls and advance critical policies.
About Bloomberg Philanthropies
Bloomberg Philanthropies invests in 510 cities and 129 countries around the world to ensure better, longer lives for the greatest number of people. The organization focuses on five key areas for creating lasting change: Arts, Education, Environment, Government Innovation, and Public Health. Bloomberg Philanthropies encompasses all of Michael R. Bloomberg's giving, including his foundation and personal philanthropy as well as Bloomberg Associates, a pro bono consultancy that works in cities around the world. In 2018, Bloomberg Philanthropies distributed $767 million. For more information, please visit
bloomberg.org
or follow us on
Facebook
,
Instagram
,
YouTube
and
Twitter
.
About NRDC
The Natural Resources Defense Council (NRDC) is an international nonprofit environmental organization with more than three million members and online activists. Since 1970, our lawyers, scientists, and other environmental specialists have worked to protect the world's natural resources, public health, and the environment. NRDC has offices in New York City; Washington, D.C.; Los Angeles; San Francisco; Chicago; Bozeman, Montana; and Beijing. Visit us at
www.nrdc.org
and follow us on Twitter @NRDC.
<!#43END>
Featured Product/Service
<!998Template_start>
<!998Template_end>
---
Disclaimer
Beachstand.com cannot guarantee the accuracy of the beach information. beachstand.com maintains this information and links for your personal entertainment, information, education, and communication. Beachstand.com has not reviewed all of the sites linked from these links and is not responsible for the contents of any off-site pages or any other sites linked to the Site. Your linking to any other off-site pages or other sites is at your own risk.


Please send questions about this website to