Featuring Beaches of Hawaii and Around the World
Beach Stand - Beaches of Hawaii and the World
News Item

Kaka'ako land transfer to be realized Nov. 1
<!#43START>
Kaka'ako land transfer to be realized Nov. 1
Transfer of numerous parcels, roadways, and public infrastructure to the City and County of Honolulu from the Hawai'i Community Development Authority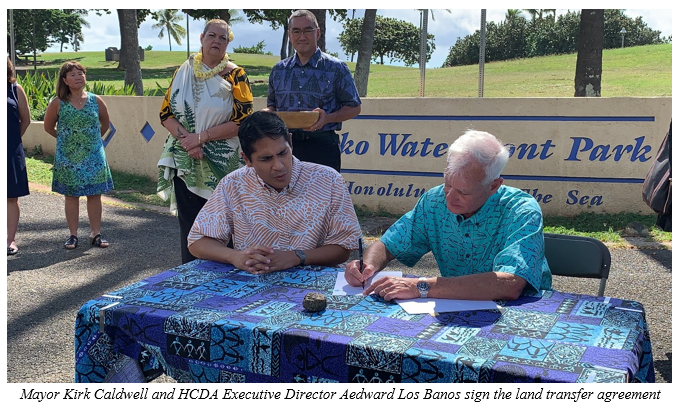 KAKA'AKO – The historic transfer of public lands and facilities in one of the fastest growing areas of the state will be finalized and take effect on Nov. 1, 2019.
On that date the transfer of 16 parcels, including 3 roadways and numerous other public facilities located within an approximately 41-acre, makai section of Kaka'ako, will be completed to the City and County of Honolulu from the Hawai'i Community Development Authority (HCDA).
Those facilities include, but are not limited to:
•
Kaka'ako Gateway Parks
•
Kaka'ako Waterfront Park
•
Kewalo Basin Park
•
Adjoining parking lots
•
'Ohe Street
•
Olomehani Street
•
'Āhui Street
Upon completion of this transfer, the city departments of Parks and Recreation (DPR), Facility Maintenance (DFM), and Land Management (DLM) will have jurisdiction over these facilities.
"For years the city has acted like the gardener in someone else's garden, taking care of issues within Kaka'ako makai without having control over the area," said Mayor Caldwell. "Now with this transfer we can thoroughly revitalize this precious public land and help the community realize its true potential. It is no secret this area has had a tumultuous past. We hope that this transfer will help pave the way for a brighter future as we activate this area with positive public usage."
"The Kaka'ako parks are former landfill and industrial areas that were remediated and turned into parks with world-class views," said HCDA Executive Director Aedward Los Banos. "We are pleased the city will be able to use its expertise to make the parks a gem the public can use for generations."
The public is advised that permitting for the three parks mentioned above will now follow DPR rules and regulations beginning on Nov. 1. Please contact the DPR District 2 office at (808) 768-9292 or email
parks@honolulu.gov
for permitting assistance at these parks.
To assist with bringing these facilities up to city standards, the HCDA has provided approximately $2.25 million in funds to the City and County of Honolulu.
Furthermore, 24 new employment positions are being created within DPR, using the current Fiscal Year 2020 budget. These positions include maintenance staff, park rangers, and recreation personnel.
Much of the effort to bring these parcels up to city standards will be focused on the 25-acre Kaka'ako Waterfront Park. As a result of its current condition, and the need for immediate repairs, part of the park will be closed beginning on the official transfer date of Nov. 1. The closure is anticipated to be finished by February 2, 2020, but may be extended should the extensive repairs require additional time. The "Point Panic" area of the park, including the stairway access into Kewalo channel, are not part of this closure.
—PAU—
<!#43END>
Featured Product/Service
<!998Template_start>
<!998Template_end>
---
Disclaimer
Beachstand.com cannot guarantee the accuracy of the beach information. beachstand.com maintains this information and links for your personal entertainment, information, education, and communication. Beachstand.com has not reviewed all of the sites linked from these links and is not responsible for the contents of any off-site pages or any other sites linked to the Site. Your linking to any other off-site pages or other sites is at your own risk.


Please send questions about this website to